IRONTECH is very proud to introduce AIT Smart Factory as our new Authorized Distributor for the Latin American market.
AIT Smart Factory is a technology driven company, focused on the integration and delivery of creative and result oriented solutions in the development and implementation of Industrial Automation systems.
At the end of 2016, AIT Smart Factory was established in Bogota (Colombia), multiplying its participation in LATAM by 10 times since then. Its structure will allow us to increase our visibility in the region.
This partnership, besides offering sales representation and technical service support in Latin America, will help us to speed up all processes and make communication between us, as a manufacturer, and local end users more fluid.
Some of the customers already working with AIT Smart Factory in LATAM are important companies such as: Belcorp, Beautik (cosmetics), Farmayala (pharmaceuticals) and Grupo Epa (food industry).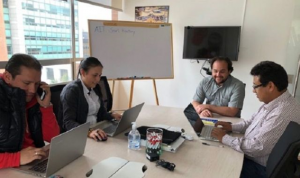 AIT Colombia Team /
Photo appeared on @VIAEmpresa on July 29, 2019.